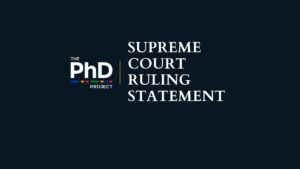 SUPREME COURT RULING STATEMENT
---
We were deeply disheartened by the Supreme Court's decision, which could reduce access to higher education for historically marginalized and minority students.
Too often, the student population at U.S. higher education institutions fails to reflect the demographic realities of our country. Very real barriers still exist for historically marginalized and minority students striving to further their education. Our work to eliminate those barriers must continue.
Diversity in education does not come at the expense of others; it enriches education for all. It heightens the rigor and relevance of the scholarly conversation. It gives all students exposure to different perspectives, broadening their horizons and positioning them for success. This is why The PhD Project exists.
This ruling merely reinforces that our mission has never been more important. We remain fully committed to making a societal impact by increasing diversity in front of business school classrooms to attract a more diverse student population so that the business world will reflect the customer base it serves.